THE EXECUTIVE DESK

This Tri-level Executive Desk was built for maximum shelf storage space. it is made out of cherry and was custom matched to the color and door style of the coach.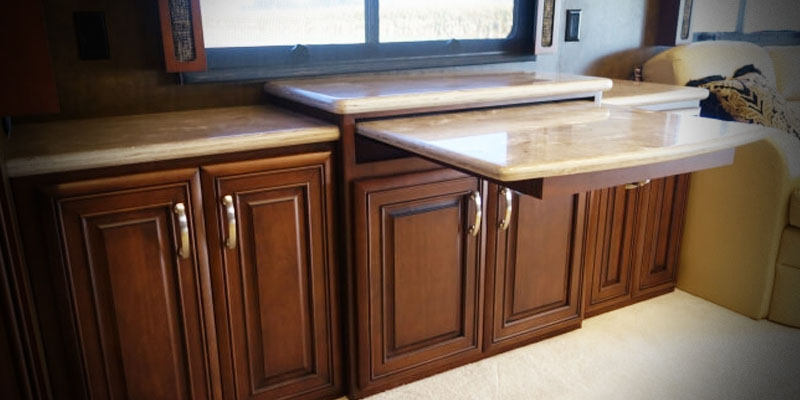 THE EXECUTIVE DESK
Here is a Maple finished Executive Desk with Corian tops. Designed for office and computer work, it features a file drawer, a pullout shelf for printer storage, and a pullout laptop shelf for working convenience. Add in a few storage drawers and some adjustable shelves and you have a full fledged office desk that you can be proud of!
THE EXECUTIVE DESK
This Executive Desk was built in the Flat Top version. It is made of cherry hardwood with hand glazed doors and drawers fronts to match the coach color. As can be seen by the photo, there is plenty of room for the two dining chairs in front of the desk.
THE EXECUTIVE DESK
Another fine example of the Executive desk built to match the existing decor and wood finish of the customer's coach. This desk is finished in high gloss maple Euro style doors and modern hardware. It has drawers on both sides for maximum accessible storage and convenience.